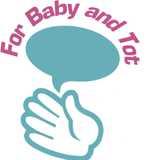 Toddle Talk with Rachel
Accredited Toddle Talk baby signing and sensory classes.

Fun, friendly, relaxed group where you and your child can learn BSL signs through engaging songs, stories and sensory props while bonding with your child.

Signing with your child can help aid communication both before and during speech development and reduce frustration for both you and your child.

All this learning is followed by a drink and biscuit and free play for little ones. A handout is provided at the end of each session with descriptions of the signs learnt each week.