babies & toddlers interactive drop in music class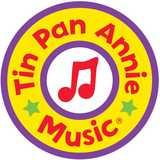 14 December 2023
10:00 – 10:30
£13.00
Ages 0 – 4 years
Space for 10 children
Repeats weekly
Description
Award winning educational music classes written and developed and taught by Tin Pan Annie with decades of experience and fun in teaching music to little ones. No need to book, just drop in and pay in class by card/cash.
Annie's expertise and experience means that every child is engaged from the tiniest tots to the most energetic 4 year olds. Great for bringing sets of siblings, and for chatting and socialising before and after the class in the lovely coffee shop in the same building. You don't even need to book, just drop in and pay in class.
The structured, themed classes are packed with elements to enable children to gain all the positive learning benefits from participating in a live music class, whilst having a fabulous time.
Accompanied by acoustic guitar playing throughout (never any backing tracks) there are favourite, familiar songs, Tin Pan Annie originals, and easy rhymes to help speech and language development and aid memory skills. The children love joining in with rhythm sticks, dancing silly scarves and loads of quality percussion which all help develop their fine motor skills and manual dexterity. The centrepiece of each class is often Tin Pan Annie's box time where concentration is encouraged as colourful puppets and props are revealed and new vocabulary repeated. The children absorb so much as they sing, clap, jump, dance and play music together. Without knowing it, they are learning about the shape, dynamics, rhythm and timbre of real acoustic instruments , all invaluable in any future musical instrument learning. All of this and more packed into 30 minutes of fun. The highlight of your child's week and often the grown ups too!
Location
21
Ramsden Road
Balham
London
SW12 8QX
Nearest stations
Balham

(0.14 miles)

Northern
National Rail

Wandsworth Common

(0.46 miles)

National Rail

Clapham South

(0.56 miles)

Northern