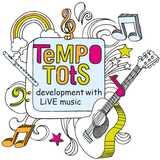 Tempo Tots
Offering LiVE music making as a developmental tool children from 3 months to 4 years. Each drop-in class includes a variety of musical, sensory and movement activities to meet the needs of the particular group.

With stories, bubbles, puppets, singing, dancing and playing musical instruments to support learning and understanding, your child and their friends will have lots of fun in our interactive classes, led by Emma on her guitar.

We aim to offer a safe space where you as caregivers can explore the benefits and connections of shared, interactive music, bonding and child development.