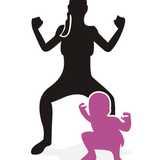 Sweaty Mama
Sweaty Mama is the fun, effective and interactive workout with your child.

Babies, toddlers and pre-schoolers all love Sweaty Mama. Children from 6 weeks – 4 yrs old+
Exercise adaptations to suit your fitness and the age/development of your child.

Led by pre and post-natal specialists and trained in safe babywearing too!

A 6 week course just £45 or come along for a taster session for £8.50.