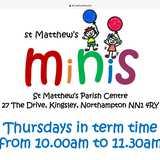 St Matthew's Minis
A Play group for Children 0 to 5 Years Old and their Parent or Carers.

Every Thursday from 10 AM to 11.30 AM. Term time Only.

Adults £1 Children 50p

Drink and snack for Children, Tea or Coffee for Adults. Lots of Toys in a safe environment.