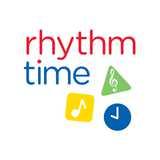 Rhythm Time
Give your child the best start!

FUN, EDUCATIONAL & AWARD WINNING music classes.

Your little one's confidence, creativity and co-ordination will flourish with our fun, quality music sessions.

"The best music class in town" as quoted by our mums! Our classes will help to nurture and enhance EVERY child's development and innate musical ability.

Rhythm Time also helps stimulate your child's imagination and also develops specific musical concepts such as rhythm, pitch and listening. It's the perfect foundation for school and future music making!