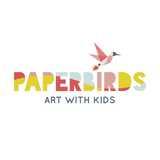 Paperbirds Art Club
Art is an adventure that never ends!
Paperbirds - Art with Kids believes in the many benefits of art for children of all ages.

We offer weekly after school art and toddler art classes, holiday camps and workshops, we come to events or host crafty mornings, we organise fun arty birthday parties or teach private art classes for children at their homes.