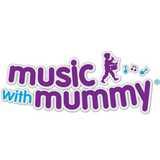 Music with Mummy
A fun and gentle introduction to music from birth to 4 years.

A 30 minute music session aimed at exploring basic musical concepts and encouraging turn taking, sharing, speech and listening skills, while having a whole lot of fun with their special adult! Classes are small and personal which ensures lots of individual attention.

Babies and toddlers will develop early listening skills. a sense of rhythm and early training in singing but most importantly they will have fun!