Music With Mummy and Jolly Babies in BS8 and 9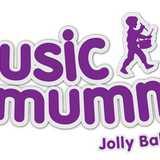 Music with Mummy and Jolly Babies
11 December 2023
09:20 – 12:00
Free
Ages 0 – 4 years
Space for 12 children
Repeats weekdays
Description
Fun filled, friendly, relaxed music classes in 2 age groups.

Jolly Babies ( from birth to 15 month) We sing a combination of songs written specifically for Jolly Babies and some well known children's songs. The songs encourage the babies to have fun enjoying music, we clap, wave, tickle, giggle, rock, roll, crawl, bounce, wiggle and dance and enjoy baby percussion time together.
The classes are a great time to bond with your baby and also meet other families.

Music With Mummy ( or any other adult eg Grandparents, Dads, nannies etc!) Suitable for children aged 15 months plus. We sing about a different theme each half term and explore it together through singing, percussion and movement, using a huge variety of theme specific props. We laugh, chat, sing, clap, dance and learn together. The sessions are lively and fun for children and adults too!
Location
8
Withey Close West
Bristol
BS9