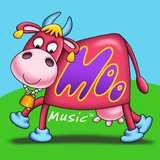 Moo Music
Moosical fun for your little one!

Fun weekly Music & Movement sessions where we sing, dance & play using an abundance of age appropriate props like instruments, bubbles, parachutes & many more, making the sessions a thoroughly enjoyable experience.

Classes are for children aged 0 - 5. Baby Moo being a calmer, more sensory based class than our Mini Moo classes for those on the go!!!