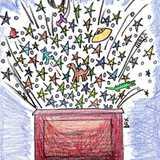 Magic Box
Want to dig for treasure with pirates? Want to fly to the moon? Come and open the Magic Box...and play!
Interactive storytelling adventures for kids aged 18 months to 5 years.
Let your kids help Lottie, a professional actor, create and tell a story, using the odd things she finds in her Magic Box.
Fun and creative imaginative play, with songs thrown in!