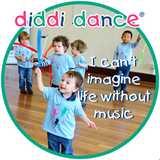 diddi dance
diddi dance is a funky toddler and pre-school dance class designed for boys and girls aged 18 months - 4 years. We help your little one develop key skills such as co-ordination, balance and rhythm in a fun packed 45 minute class, chocfull of activities that your little one will enjoy.

diddi dance will keep your little one interested with the much loved hoops and ribbons and our 16 different themes from salsa to hip hop, ballroom, charleston disco to tap.

All our music is created specifically for us, so come along and join in the fun and have boogie.