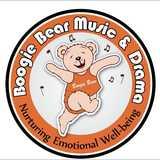 Boogie Bear Music & Drama with Christine
New Online zoom French Friday classes!
Boogie Bear live stream zoom classes start on the 26th June. Boogie Bear music & Drama are offering a French Friday progressive language programme that will run for 6 weeks. Our FREE 6 week curriculum planner will be available on our webpage
http://boogiebear.co.uk. Parents will be able to view, copy and save the French planner as to continue learning at home.

During our 6 weeks, we will be learning; how to count to 10, primary colours, greetings, basic grammar, French songs, science and lots more.