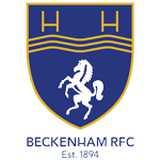 Beckenham Rugby Football Club
If you're child is aged between 3 - 5 and you want them to learn new skills such as Teamwork, Respect, Discipline and Sportsmanship while enjoying themselves, then come along and try a rugby session for free at any point during the September - April playing season.

We run rugby training sessions called BRATs (Beckenham Rugby Active Toddler's) every Sunday morning for nursery and reception age children from 9:30 - 10:30. The first three sessions are 'on us' so you can get a feel for the coaches, sessions and our community ethos. If you'd like to join the club the annual BRATs cost is £80 or 3 instalments of £27.

Year 1 pupils play in our U6 side
Year 2 pupils play in our U7 side etc.

Our U6 to U11 sides train Sunday mornings from 9:30 to 10:45 while our U12 to U16 sides train Sunday's between 11:00 to 13:00. Our Academy (sixth form) side also trains Sunday mornings from 13:00.

Midweek training sessions take place most Thursday evenings but check timings with your age group coach first.

Annual membership for a parent and U6 or older child player is £135 or 3 instalments of £45.

Call us if you have any questions on 07770 995 895.