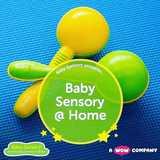 Baby Sensory and Hello Baby Massage
Baby Sensory and Hello Baby Massage are multi award winning learning and development programmes for babies from birth to 13 months.

Hello Baby Massage, Reflexology and Yoga is perfect for newborns. Teaching many techniques to calm and sooth your baby. Covering colic, reflux, back to the womb containment just to name a few.

Baby Sensory teaches how to aid your babies development using their senses. Every week is different for over a year. Lots of fun and a great way to meet other parents.