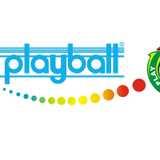 Playball Raynes Park
Welcome to our Franchise
Playball helps children to build a foundation from which they can develop confidence in multiple sports skills and then go on to choose a preferred sport. Our goal is to offer children a variety of sports-based activities in a fun, structured and active way and to create a learning environment that boosts each child's confidence in a wide range of skills.

Playball also encourages social and emotional development. Children are taught to listen to instructions, observe demonstrations and concentrate while attempting each skill.

Playball Age Guide: Where possible children will be will be split according to the month they were born. e.g. those born (September - February) and then (March - August).
I Can Do - children who are two turning three before September 2024.
Watch me Play - children who are three turning four before September 2024.
Dinkies: for reception children.Preps: for year ones.Players: for year twos and older

Refer our weekly classes to your friends and receive a total of 15% off next terms fees. Don't forget we also run Birthday Parties and Holiday Camps!!!

Playball Thames Ditton Venues and Schools:
Milbourne Lodge School - Monday afternoons
Muddy Puddles Long Ditton - Tuesday mornings
Colets Days Nursery - Tuesday and Wednesday mornings
Busy Bees Nursery - Friday mornings
Hinchley Wood Primary School - Saturday mornings

For more information, please email [email protected] or call Tina on 07508459153.

Cancellation of classes and camps: Playball will not be liable or able to refund any fees for cancelled classes, bad weather or any other unforeseen circumstances, in these extremely rare cases we will seek to offer catch up classes or credit where possible.